Category Archives:
house classic
Raze with the Classic stone cold House Classic Break 4 Love from 1988 with Keith Thompson on Vocals
Also found this Spanish Fly Remix from 1992 features the vocals of Jeanette Fraginals
"Break 4 Love" is a song written, produced and recorded by house-music group Raze. The song, the group's only significant U.S. hit, featured vocals by Keith Thompson. The single peaked at number 28 in the UK Singles Chart and it topped the U.S. Hot Dance Club Play chart in 1988. It is still considered a classic of the early house music genre.

The song has been remixed, re-recorded and reissued on several different independent dance music labels, the most significant of which, "All 4 Love (Break 4 Love 1990)", climbed to number 30 in the UK in early 1990.

The song can be heard in the video game Grand Theft Auto: San Andreas, on the in-game radio station SF-UR, which also features other house music songs by different artists.

Sydney Youngblood's "If Only I Could" used the bassline and drumbeat from "Break 4 Love", and reached number three on the UK Singles Chart.
Related articles
As many of you know by now, Terrence will be playing in Sydney next Saturday 24th Sept @ the old Manhattan Lounge 58 Elizabeth St Martin Place.
$20 pre-sale tickets are available from http://www.ourhousesydney.com. There will be a limited amount of $25 tickets at the door.
Check out this classic Terrence Mix recorded back in 1996!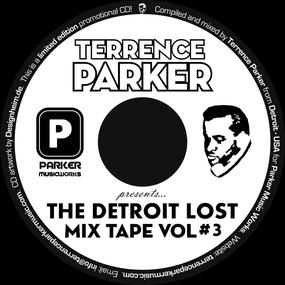 Here is the 3rd installment of this popular Terrence Parker classic mix tape series. This mix tape was originally recorded in July of 1996. For more information on how you can purchase the full 79 minute mix on CD, please visit Disk Union (JAPAN) online at: http://diskunion.net/clubt/ct/search?m=11&q=TERRENCE%20PARKER

If you have any trouble purchasing this mix please send an email to: info@terrenceparkermusic.com
Website: www.TerrenceParkerMusic.com
..and this a red hot disco mix!
There is only one Lil Louis!
Chicago based DJ and producer.


One of the most popular Chicago house producers during the late '80s thanks to his massive club hit "French Kiss", Lil' Louis was also the only Chicago producer to successfully deal with the major labels; he released two albums for Epic, and only left the label at his own instigation. Born in Chicago, Louis was the son of guitarist Bobby Sims, who recorded for Chess and appeared with the psychedelic-soul unit Rotary Connection. He grew up with nine siblings and played both drums and bass as a child, then began DJing in the mid-'70s (he earned his nickname after appearances at the club River's Edge while still in middle school). By the end of the decade he had his own club, the Future, where he began working on his editing techniques, thanks to a cassette deck and later a reel-to-reel recorder.
By the 1980s, Lil' Louis was hosting the biggest house parties in Chicago, and he began recording his productions around that time as well. His first single "How I Feel" appeared on his own label, and he began collaborating with Marshall Jefferson on several tracks – "Seven Ways to Jack" by Hercules, Byron Stingily's "I Can't Stay Away". In 1987, his new single "French Kiss" became a local hit, then a platinum-selling international classic after being licensed to CBS and ffrr. The success triggered a major-label contract through Epic, and the release of his debut album "From the Mind of Lil' Louis" in 1989. Charting a course across jazz-fusion and R&B as well as house, the LP was one of the best produced by any of the Chicago figures, and included session contributions from Larry Heard, Die Warzau and his own father on drums. From the album, the moody single "I Called U" became another club hit. His follow-up LP, the more stylistically unified "Journey with the Lonely", didn't fare as well and Lil' Louis retired from recording for over four years, preferring instead to set up his own studio in New York and work on production with Babyface and Me'Shell Ndegeocello. He returned by collaborating with "Little" Louie Vega of Masters At Work and also worked on production for Black Magic.
Download: Lil Louis French Kiss (original)
More rare versions and dope write up on Lil Louis @ Hashmoder online.
Related articles