Blog Archives
Studio Apartment is the dance music duo of Japanese DJ Masanori Morita and keyboard player Noboru Abe. The two have produced numerous singles that have featured various singers and been compiled into a series of albums. World Line was released in December 2005, followed by People to People in March 2006 and Museum Euterpe in September 2006. For Her for Him for You, released in July 2007, featured Blaze, Monique Bingham, Kimara Lovelace, Ron Carroll, Deborah Bond, and AK. The Rising Sun, issued by King Street Sounds/Nite Grooves in June 2008, featured many of the same performers, along with Joi Cardwell, Akiko, Stephanie Cooke, Terrance Downs, and Kenny Bobien.
"Isn't she lovely" by STUDIO APARTMENT re-works the original Stevie Wonder's  Soul classic into an all out Soulful House masterpiece that has emerged to become  an underground house classic around the world. This is especially acclaimed track in their release and the 12 inch includes remix for DJ OJI that released previously only available on MIX CD alongside Instrumental mix which never unreleased on CD. Only this release found original re-edit version by Masanori Morita who provides much more bumping beat to the dancefloor.  DJ OJI remixed percussive track interpretation of afro beat original running smoothly. Guitar and saxphone solo playing to the end creates jazzy atomosphere to the dancefloor.DJ OJI's pounding beat aptly overlayed with Kenny Bobien's fascinated falsetto voice built into much moody.
Related articles
As many of you know by now, Terrence will be playing in Sydney next Saturday 24th Sept @ the old Manhattan Lounge 58 Elizabeth St Martin Place.
$20 pre-sale tickets are available from http://www.ourhousesydney.com. There will be a limited amount of $25 tickets at the door.
Check out this classic Terrence Mix recorded back in 1996!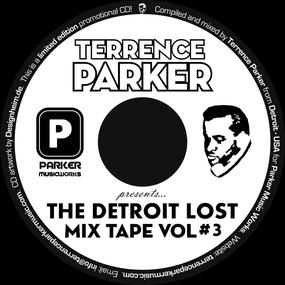 Here is the 3rd installment of this popular Terrence Parker classic mix tape series. This mix tape was originally recorded in July of 1996. For more information on how you can purchase the full 79 minute mix on CD, please visit Disk Union (JAPAN) online at: http://diskunion.net/clubt/ct/search?m=11&q=TERRENCE%20PARKER

If you have any trouble purchasing this mix please send an email to: info@terrenceparkermusic.com
Website: www.TerrenceParkerMusic.com
..and this a red hot disco mix!
Not much needs to be said about Kraftwerk really as im pretty sure everyone who knows anything about music will know exactly what electronic music today owes Kraftwerk. I doubt there is a BBoy in the world who wont get amped hearing this on a floor or a record enthusiast that wouldn't have this in their collection.
Kraftwerk, along with Giorgio Moroder, Jean Michel Jarre and a few others were THE GODFATHERS OF ELECTRONIC MUSIC!
Along with being one of the releases that shaped electronic music, Tour also has its small spot in clubbing/rave history here in Sydney too. I have heard from a few people over the years about watching in awe as local DJ Stephen Allkins (Love Tattoo), regularly sample & played this back & forth with Salt & Peppers Push It at Sydneys infamous R.A.T parties at the Horden in the late 1980′s.
Check this info on RAT parties in Sydney from Powerhouse museum online;
During the 1980s in

Sydney's

 inner-east, a series of more than 35 parties organised by the Recreational Arts Team (RAT) formed a key element of an emerging subculture. The core of the self-styled Recreational Arts Team was Jac Vidgen, Billy Yip and Reno Dal. Vidgen, an energetic party-thrower who had come to Sydney from Brisbane, became the de facto promoter and organiser of these so-called

RAT parties

. Yip was an artist with a wildly creative imagination who developed well co-ordinated themes and design concepts for the parties. His striking graphic concepts were applied to posters, fliers, badges and banners. Reno Dal was the team's original technical designer and producer, who started the events with Vidgen and Yip in 1983 and remained involved until 1986. Mark Taylor was the technical producer for the peak period 1986-1990, while Wayne Gait-Smith was technical designer.Vidgen threw his first public party for 200 guests at a rat-infested house on Cleveland St on 2 October 1983, because his own private parties had become too large and expensive. He had no idea he was setting in train a phenomenon that led to a multitude of dance parties every year. Each party had a special name, usually conceived by Billy Yip, incorporating the word 'rat' in its title. The first official RAT party, titled 'Ratsurrect' and advertised through word-of-mouth, was held at the

Bondi Pavilion

 on Easter Sunday, 22 April 1984. The early parties, particularly 'Ratizm' at the Paddington Town Hall (April 1985), created a buzz, attracting an inner-city party-going crowd that included heterosexual bohemians as well as gay men and drag queens. RAT parties typically had audio-visual presentations, bizarre props, party drugs, innovative lighting, underground cabaret groups, the best

DJs

 in town and unusual live performances by people like Martin Harsono and Simon Reptile, who performed at most of these events.

What began as a creative exercise became a business. In 1987 Vidgen registered Recreational Arts Team Pty Ltd as a company. The events became larger, and were no longer exclusive eastern suburbs affairs where it was necessary to know the right people to obtain a ticket. The parties became famous for their spectacular entertainment and celebrity guests. 'A Ratty New Year', held on New Year's Eve 1988 and featuring a 4am live performance by Grace Jones, was so popular that it filled both the Hordern Pavilion and the Royal Hall of Industries. The audiences ranged from 200 to 14,000 guests, with budgets from $5,000 to $400,000. However Vidgen's motivation was not financial gain. Business was risky, profits were slim, and money made on one party was frequently lost on the next one. Vidgen described himself as 'an event producer committed to celebration' (Sydney Morning Herald 13/9/89).

RAT parties provided a venue for a circle of creative people to express themselves on a larger scale than had previously been available, providing a stepping stone for some to move to other levels of expression. Billy Yip is now a painter of fine art. Tobin Saunders, who is now better known as Vanessa Wagner, used to help on the decor team and performed at many of the parties with his dance group. Other contributors were the visual artist Anthony Babicci, the entertainer Ignatius Jones, and Tim Gruchy, who was responsible for much of the video production and recording at the events, particularly in the later years. The parties were vividly documented in photographs by William Yang.

The RAT parties were forerunners of the dance parties and raves of the 1990s. In the early 1980s pub rock was still the mainstream, and dance music was an underground phenomenon. Any music that utilised electronic instruments other than guitars was regarded as weird or avant-garde. RAT party enthusiasts eschewed rock, preferring recorded electronic music and dance music provided by pioneering DJs like Tim Ritchie, Robert Racic and Pee Wee Ferris.

Spearheaded by these DJs, Australian dance music took off in the 1980s. Ignored by major record labels, the dance movement followed the same path as the punk ethic: do-it-yourself. Following Vidgen's lead, competing independent promoters booked nights at tired old venues like the Hordern Pavilion and transformed them into vibrant, packed palaces. Sydney's gay community, in particular, took to dance parties. As well as RAT parties, the Mardi Gras, Sweatbox and Bacchanalia are now spoken of as some of the best parties held, featuring DJ sets from the likes of Ritchie, Racic, Ferris, Stephen Allkins and Paul Holden. The buzz of these parties spread to the UK with that country's top DJs keen to take part. Warehouses emerged, some becoming the foundation of local rave culture. By the end of the 1980s parties flourished all around the country, with promoters booking a constant flow of influential overseas DJs such as Paul Oakenfold. While established rock venues suffered from lack of attendance, dance parties were frequently sold out.

The RAT parties altered Sydney's night life, starting a craze for giant dance parties that lasted in to the 1990s. They provided a diverse range of entertainment based on visual and aural stimulation, provided a creative outlet for talented people and set the tone and style of Australian dance music culture.

Read more: http://www.powerhousemuseum.com/collection/database/?irn=319666#ixzz1PGnVkBul
Under Creative Commons License: Attribution Non-Commercial
Related articles